1. Preface
Mr. Masaaki Sakuma is a friend of mine since I was a member in the AA-net circle in Urayasu City around 10 years ago.
This is his couple, Masaaki and Fumiko-san.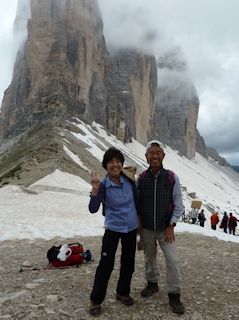 June 2014, Dolomiti, Italy
Mr. Sakuma, I call him Masa from now, is 72 years old, 4 years younger than me. He lives in the same town with me, Urayasu City, Chiba Prefecture, enjoying hiking both domestic and overseas with his wife Fumiko-san, besides contributing to our community as a member of arbitration board.
When I informed him of my recent trip to my hometown in Nanki-Kumano District which is famous for Kumano-Kodo or Kumano Ancient Pilgrimage Routes, he replied and referred to his pilgrimage to Santiago de Compostela, Spain, this June.
By my request, he came over and talked about his pilgrimage this time with a lot of documents.
This is my first time to listen to a long pilgrimage by one's own plan, and what's more, overseas.
I was impressed so deeply with the details of his talk and documents that I decided to ruminate his pilgrimage to Santiago de Compostela and then finally to the view point of the Atlantic Ocean (Camino de Santiago of his own), with the help of his documents and photos.
Now the outline of Masa's Camino de Santiago 2016.

The Camino de Santiago is the pilgrimage to the shrine of the apostle St. James the Great in the Cathedral of Santiago de Compostela in Galicia, north-western Spain.
There are now the following 20 routes of Camino de Santiago according to caminoway.com.
| | |
| --- | --- |
| French Way | Portuguese Coastal |
| Portuguese Way | Northern Way |
| English Way | Finisterre Way |
| Lighthouse Way | Fishermen's Trail |
| Camino de Invierno | Le Puy Way |
| Original Way | Via de la Plata |
| Arles Way | Camino Catalan |
| Geneva Way | Cluny Way |
| Paris & Tours Way | Vezelay Way |
| Mont Saint Michel Way | Coach Trips |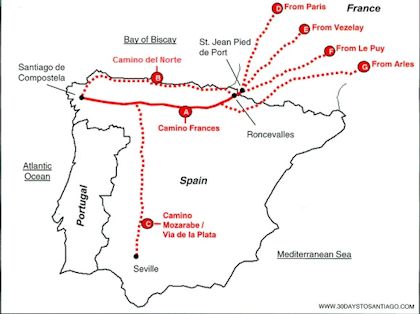 Masa walked along the French Way (Camino Frances), the most popular among them to visit the Cathedral of Santiago de Compostela, and then extended his way to Muxia along the Finisterre Way (Camino Fisterra) to have a view of the Atlantic Ocean. Total distance was 904.5 km spending 30 days.
French Way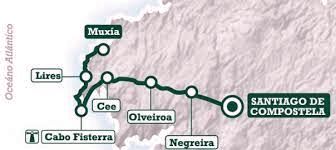 Finisterre Way
In an attempt to start the pilgrimage on May 25 from Saint-Jean-Pied-de-Port, France, he left Narita Airport by AF 275 at 11:00 on Monday, May 23, and landed at Paris at 16:15 local time the same day.
He stayed at a hotel in Montparnasse that night.
The next morning he headed for the starting point Saint-Jean-Pied-de-Port by TGV train, and arrived there late at night. While in the train, he was about to have a hard time because of the delay by some fatal accident. He had a kindness from a gentleman and a lady. They explained what happened then and how to spend the idle time in slow and steady English to let him understand. So, Masa felt at ease thanks to them and got to the destination at 17:12.
He stayed at an albergue with dinner and breakfast there.
- - - - -
The following table shows Masa's pilgrimage route to Santiago de Compostela, and then to Muxia.
From the next chapter, I will pick up where and how he walked for 30 days from his detailed diary, with what he encountered and what impressed him on the way.
date
destination of the day
distance
1st, Wed.
May 25
From Saint-Jean-Pied-de-Port
To Roncesvalles
25.0 km
2nd, Thu.
May 26
To Larrasoana
27.0 km
3rd, Fri.
May 27
To Zariquiegui
27.1 km
4th, Sat.
May 28
To Villatuerta
31.0 km
5th, Sun.
May 29
To Torres del Rio
32.8 km
6th, Mon,
May 30
To Navarrete
33.3 km
7th, Tue,
May 31
To Santo Domingo de la Calzada
38.4 km
8th, Wed.
June 1
To Villafranca Montes de Oca
34.8 km
9th, Thu,
June 2
To Brugos
39.7 km
10th, Fri.
June 3
To Hontanas
31.8 km
11th, Sat.
June 4
To Fromista
34.6 km
12th, Sun.
June 5
To Calzadilla de la Cueza
37.6 km
13th, Mon.
June 6
To Bercianos del Real Camino
30.8 km
14th, Tue.
June 7
To Villarente
32.8 km
15th, Wed.
June 8
To Villadangos del Paramo
34.2 km
16th, Thu.
June 9
To Murias de Rechivaldo
32.7 km
17th, Fri.
June 10
To Riego de Ambros
34.9 km
18th, Sat.
June 11
To Villafranca del Bierzo
36.6 km
19th, Sun.
June 12
Hospital de la Condesa
35.6 km
20th, Mon.
June 13
To Samos
24.5 km
21th, Tue.
June 14
To Portomarin
34.6 km
22th, Wed.
June 15
To Mato-Casanova
30.6 km
23th, Thu.
June 16
To O Pedruzo
42.1 km
24th, Fri.
June 17
To Santiago de Compostela
20.1 km
782.7 km
(subtotal)
25th, Sat.
June 18
Walking in
Santiago de Compostela
26th, Sun.
June 19
To Negreira
22.4 km
27th, Mon.
June 20
To Olveiroa
33.1 km
28th, Tue.
June 21
To Cee
18.3 km
29th, Wed.
June 22
To Fisterra
20.0 km
30th, Thu.
June 23
To Muxia
28.0 km
904.5 km
(total)
Before this pilgrimage, Masa had a careful preparation as follows.

1.
Information collection -- read journals of experience and guidebooks
2.
Make a road map with an itinerary (30 days + 3 alternative days = 33 days in total)
3.
Join the meetings of "Asociacion de Amigos del Camino de Santiago en Japon"
Get the guidebook of Camino de Santiago by the association and the book "John Brierley's Camino de Santiago"
4.
Prepare a budget
5.
Open a bank account for Euro
6.
Check of the equipment -- up to 10kg with the backpack
7.
Advance training, work-up of the new shoes
8.
Make transportation arrangements to and from the pilgrimage
9.
Make sure of the means of communication during the pilgrimage to Docomo
- - - - -
Re: Albergue
Masa stayed in albergues through his Camino de Santiago for 30 days. Let me explain what an albergue is.
"Albergue" is a Spanish word of "a lodging for pilgrims".
It consists of two types.
One is Pubrico, managed by a local government, a church, a monastery or a covent.
Another is Privado, managed by a local group or privately.
朗読 9分17秒
上の音声が出なければ、こちらをクリック