6th Sightseeing day, May 12
Luxembourg and Ardennes District
I got up at 6:00 am at Ramada Hotel, Brussels. Breakfast at 7:30 am.
I found 2 PC's beside the lobby which could connect me with the internet.
Naturally I could see my homepage "Viva, Seniors!" I was satisfied in spite of myself that the Japanese letters did not change into garbling.
We left Ramada Hotel of Brussels for Luxembourg at 9:00 am, 220km south. It was 15℃ and fine at that time, but ......
The sky changed every one minute like these pictures during the drive for 3 hours.
Just after lunch at the Luxembourg center, it became like this; Still Ms. H says, "Prepare for the shower."
Is this the characteristic weather change in Benelux? Isn't it my first experience during overseas travels for 10 to several years. We are lucky, anyway.
The City of Luxembourg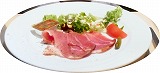 Lunch is at PETROSSE where the menu is a special dish Sauerkraut or "sour cabbage". The local guide explains that it is a finely cut cabbage that has been fermented by various lactic acid bacteria.
I like the uncured ham much more, though.
I have to refrain myself from another speciality "Mauser White Wine", because the precious sightseeing tour is waiting for us after lunch.
It began to rain lightly just when I am going to chuckle to myself as I see the blue sky behind the clouds.
In such an afternoon, we walk around in the city of Luxembourg and enter Notre-Dame Cathedral.
About the country Luxemberg
It is officially the Grand Duchy of Luxembourg, in Western Europe, bordered by Belgium, France, and Germany.
Luxembourg has a population of 524,853 (as of October 2012) in an area of 2,586 square kilometres (998 sq mi).
According to Wikipedia, "As a representative democracy with a constitutional monarch, Luxembourg is headed by a grand duke and is the world's only remaining grand duchy. Luxembourg is a developed country, with an advanced economy and the world's highest GDP (PPP) per capita, according to the World Bank. Its historic and strategic importance dates back to its founding as a Roman era fortress and Frankish count's castle site in the Early Middle Ages. It was an important bastion along the Spanish Road when Spain was the principal European power influencing the whole Western hemisphere and beyond in the 16th–17th century."
We walked around in the capital city, for Old Town as a foothold.
Old Town and Surroundings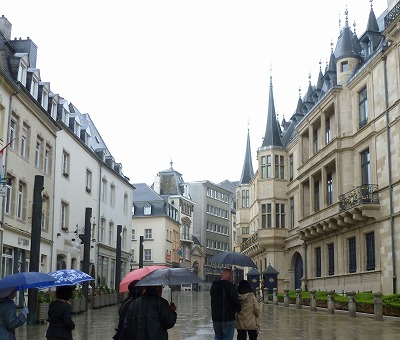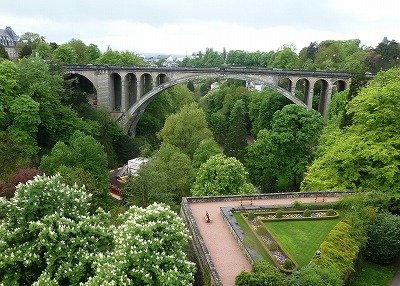 Adolphe Bridge
the arch bridge over the river Pétrusse
46m in height, 84m in length,
a stone bridge, connecting the old and new towns.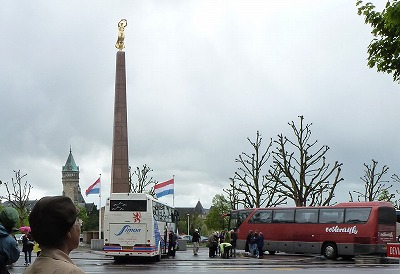 Our bus on the right
Cathedrale Notre-Dame
It was erected in the 17th century, in the Renaissance and Baroque style. Its tower looks to be a mark of strolling around the town.
It was a little bit too bad that we couldn't see New town, where the buildings of EU-associated companies seem to stand in a row.
In Old Town, too, the first-class banks of Europe and the US looked to be lined up along the main street, not to mention the World Heritage Site.
From Luxembourg back to Belgium.
We drove 140km north for 2 hours, and stopped at Ardennes District where old castles are dotted in rich nature.
Ardennes District, Belgium
Durbuy
It is a small town with remains of the Middle Ages. Considering comparatively that its population is as small as 450 people according to Ms. H, what do you think about a castle, jam studios, a brewery, many restaurants, etc. in this small rural town?
It is Sunday today, in the week of Ascension Festival. The streets are quiet. They must usually be more crowded by sightseers.
Castle of Vêves (Château de Vêves)
This castle with 5 steeples was originally built in the 7th century, and then repeated destructions and reconstructions. The present appearance is the one in the 18th century.
We walked around the castle.
We returned to Brussels, the capital of Belgium by the evening. Then, there, we walked slowly in and around Grand Place again. After that, all of us were busy shopping chocolates, waffles, Gobelin tapestries...... (written in the previous chapter.)
Ms. H, the tour conductor, announces in the bus back to Brussels.
"Grand Duchy of Luxembourg is a very tiny country. The land is as wide as Kanagawa or Saga Pref. of Japan.
Other tiny countries are Vatican City State, Republic of San Marino, Principality of Monaco, Principality of Liechtenstein, Principality of Andorra......."
…………………………
The plan on the last sightseeing day, May 13, was supposedly to start late from the hotel and to drive from Brussels 220km directly north to Amsterdam and then to fly back to Japan from Schiphol Airport; However fortunately, Mr. Hank, the driver, and Ms. H were very tactful.
So that, we left Hotel Ramada about 2 hours earlier at 8:45 am and could have a free time of one hour and a half in and around Grand Place, which was also written in the previous chapter.

The KLM plane from Schiphol at 5:40 pm had a smooth fligft for about 11 hours and landed at Narita Airport at 11:30 am of the next day, May 14. It was like in the middle of summer, here in Tokyo.
…………………………
The profile of Benelux countries is in the link page.
Many Thanks

This photo album in English was realized by the most favorable help of Mrs. Julia Takaya.
I deeply appreciate her precious advice and detailed check, making time for this work.
Thank you from the bottom of my heart, Mrs. Takaya.

Shigeru Koshiba
June 28, 2013
Part 7 Reading 10:58
Total Reading : 1:14:00
Sorry, some PC systems do not support
my sound-transmission software.
| | |
| --- | --- |
| < Part 6 | Photo Album "Benelux Countries 2013" |
| | |
Close