I wonder what influence we will have on us by the holidays.
In autumn three years ago when my wife and I travelled around Morocco in Africa, we met with "Festival of Sacrifice"(Eid al-Adha). This is, according to some article on the internet, an important religious holiday celebrated by Druze and Muslims worldwide to honour the willingness of the prophet ʾIbrāhīm (Abraham) to sacrifice his young first-born son Ismā'īl (Ishmael) as an act of submission to God's command and his son's acceptance to being sacrificed, before God intervened to provide Abraham with a Lamb to sacrifice instead.
At that time, we experienced a far more different local atmosphere than usual.....
It was 10℃ this morning. We left the hotel at 8:30 am for Otterlo Village 110km from Den Haag, and arrived at the destination around 10:00 am.
The Kröller-Müller Museum is located in the center of the Hoge Veluwe National Park in Otterlo, the Netherlands. It is an art museum and sculpture garden.
We walked through the sculpture garden and entered the museum.
According to the brochure of the museum, its history is as follows.
I think I took most of Gogh's pictures here, a part of which are shown in this page (3 pictures) and the link page (54 pictures).
The following pictures are Gogh's "Café Terrace at Night," "Four Sunfloweres Gone to Seed," "Sorrowing Old Man," Georges Seurat's "Le Chahut" and Picasso's "Standing Nude."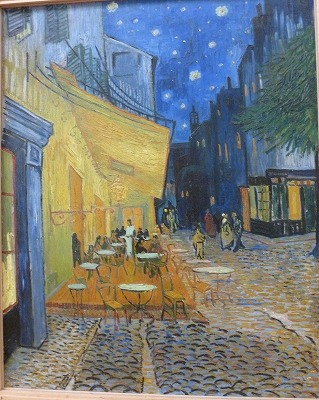 Terrace of a Café at Night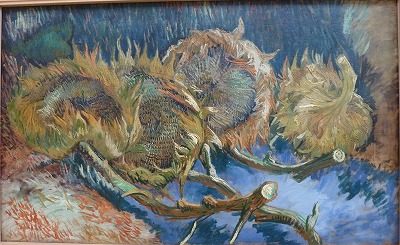 Four Sunfloweres Gone to Seed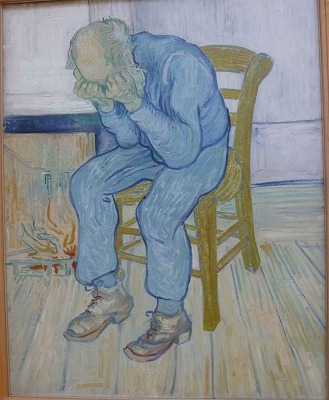 Sorrowing Old Man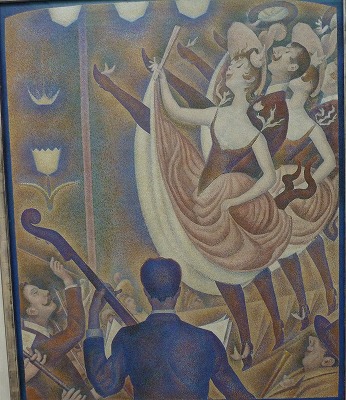 Georges Seurat "Le Chahut"

Pablo Picasso "Standing Nude"
 …………
The lunch was at the restaurant in Utrecht 69km from the museum.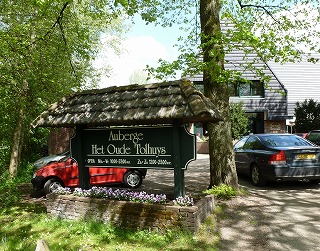 a herring dish, meat balls
and mashed potatoes Dutch way
We drove another 60km and arrived on the suburbes of Kinderdijk south-east of Rotterdam, where we saw the windmills.
The Windmills of Kinderdijk
(Mill Network at Kinderdijk-Elshout)

It is said that a system of 19 windmills was built here around 1740 to drain the polder (a Dutch reclaimed land). It has been a UNESCO World Heritage Site since 1997.
This group of mills is supposedly active now, pumping up and out water.
What is the use of the windmills in the Netherlands which once were 9,000?
They were at first flour mills. Wind turns round their wings which create rotating energy for the stone mills. Ground powder goes to bread.
The main purpose of this system changed to the drainage, which, as we know well, has contributed to the construction of the Netherlands.
A steam engine was invented in the latter half of the 19th century, which caused the windmills decline. There are around 900 units in the whole country, as an important cultural property.
There are considerable numbers of sightseers with dogs. I nearly stepped on the dog do many times, while lost in admiration of the windmills shining in the blue sky.
Lost articles are not only at the feet. One of the gray starlings (?) lost her something on my back...... My wife was busy washing my jacket at night.
What does the Netherlands remind you of? Tulips, canals and windmills. Those have been in my experience. Additionally, Anne Frank House, wooden shoes, cheese, Rembrandt, Vermeer, Gogh, too.
 …………
Around 3:30 pm after the windmills, we left for Antwerp 95km south. It is in Belgium.
As soon as we arrived, we strolled in and around Markt Square (Grote Markt), the center of Antwerp. Notre-Dame Cathedral (Onze-Lieve- Vrouwe Kathedraal) and City House (Stadhais) are gorgeous, both of which are the World Heritage.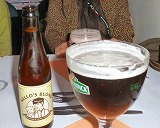 We had dinner at the restaurant around the corner of the square.
After all, Belgium is the country of beer. I hear there are more than 800 kinds.
First of all, I tasted Nello's Blond and De Konic through my throut.
Indeed, this sense of taste! They are different from cool and refreshing Dutch Heineken.
"Do you know the time in the day when beer taste is best?", Ms. H, the tour conductor, asked us. After our several irrelevant guesses, she said triumphantly, "It's 11:00 am."
It is as light as at noon even after 7:00 pm at night. We spent another time in Markt Square and then went to the hotel.
As we walked and looked around the square the next morning too, photos there are shown in the next chapter.