1-2 1st Day
Sunday, November 12 2017
Fine, 15℃.
When getting to the near station Maihama, our couple found the surrounding area was crowded a lot with men and women of all ages for Disney Resort under the nice fall weather on Sunday. Especially young people. Many of them were with babies on carriages.
Allow me to make a detour a bit.
Yesterday was November 11, the 11th day of the 11th month. That is + -, + - in kanji letters. So, it was a day of batteries in Japan.
What about today?
It is the day just of half a year since my 77th birthday, and the first day of the Kyushu Grand Sumo Tournament. Hang in there, Aminishiki! You surprisingly came back to the makuuchu division at the age of 37.
One week has passed since President Trump landed on Japan, the starting point for a round of visits in Asia. He will stay for another week around Asia. Hope no trouble at all.
Super Azusa 15 started just at noon from JR Shinjuku Station.
Our 12th car of reserved seats were unexpectedly and disappointedly almost empty. Thanks to it, I enjoyed a comfortable train ride for 2.5 hours.
First, I took lunch of sandwitches bought on the station premises.
When the train passed Kokubunji Station, I took out a notebook and began to write anything coming out in mind.
I wrote "Nowadays at the Age of 77, 2017" just half a year ago (The 103rd Story of Zakki-cho Square). I intend to have a sequel to it. The scribbled note may appear before long in a certain article......
The train has arrived at Kobuchizawa Station during scribbling. It is before 2:00 pm. Nearly one hour is left until Shiojiri Station. And then we still have to spend more than one hour to Shirahone Spa by car. The hotel arrival would be around 4:00 in the evening.
The inside of the train is rather hot than warm due to the heat. It is nothing but fine outside with no cloud and no wind. The fields, woods and far mountains passing over the window are at the highest of fall with red and yellow leaves of mottled patterns.
Getting to Shiojiri Station at 2:25 pm, we noticed at the ticket gate a hotel staff was welcoming us with a small flag. The guests were two couples including us.
The staff led us to the parking lot and explained, letting us get on a wagon, "This area is at an altitude of 700 meters. Shirahone is less than 50 km away, but its altitude is 1,400 meters. Therefore, after riding a while, the road becomes a steep hill. Please accept it beforehand."
What he said was proved right. On the way until the hill, the road was surrounded by full red leaves and a lot of apple trees. On the other hand, as soon as the wagon entered the mountain trail, it was absolutely no more feast for the eyes. The wagon, repeating gear changes, jolted endlessly from side to side, up and down.
Finally when the sign of Shirahone Spa appeared, all of us breathed a sigh of relief. The arrival at Tsuruya Inn was just before 4:00 pm.
The difference of altitude is clear, sure enough.
The red leaves were still in the highest down around Shiojiri all right, but they are said all over one week ago up at this altitude.
We are here at Shirahone Spa of the cloudy hot springs called "Getting no cold for 3 years by bathing for 3 days."
I immediately went to the bath room, impatient at changing clothes to yukata, and soaked my shoulders deep in the large hot spring bath, letting the open-air bath tomorrow.
Emiko seemed to bathe later.
Dinner was from 6:00 pm with a variety of dishes. But Emiko seemed to be not in a good appetite. I drank beer and sake with the dishes as a side snack.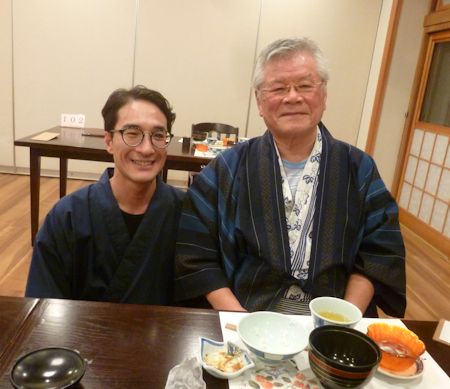 Not knowing why, I got tipsy earlier than usual. Both of us were sorry for leftovers and back to the room.
After watching TV for a while, I went to bed. Emiko was still watching TV. "When will she bathe?"
Detour a little
The following was written on the chopstick pouch at the dinner table.
Shirahone Song
 わたしゃ しらほね 遂通し
  抜けて流れて 梓川
   末は犀川 千曲川
    いずれ苦労は 信濃川
  だがね トントン

I am Shirahone Tsuidohshi
Passing through it to Azusa River
Ending to Sai River and Chikuma River
My hardship will then go down to Shinano River
But, you know, ton ton
The Origin of Shirahone Spa
The bathtub is called a hot-water boat. Since cristals of limestone are stuck to the edge and so it becomes like a white boat, it used to be called Shira-Fune (a white boat).
The present name "Shirahone" has been so called, before we knew it, because the limestone looks like a white bone.