Part 1 Preparation, Fukuoka Airport to Beppu Spa
Part 2 Yufuin, Takachiho Gorge, Aso Kusasenri
Part 3 Yanagawa, Oura Church, Glover Garden
Part 4 Dazaifu Shrine, This and That
| | | |
| --- | --- | --- |
| | | |
| Sinter Hut, Beppu | | Kinrin Lake, Yufuin |
| | | |
| | | |
| Takachiho Gorge | | Aso Kusasenri |
| | | |
| | | |
| Boating in Yanagawa | | Oura Catholic Church |
| | | |
| | | |
| Glover Garden | | Dazaifu Shrine |
Part 1 Preparation,
Fukuoka Airport to Beppu Spa
I finished a man of work 15 years ago in 2000 at the age of 60. Since then I have been enjoying travels both overseas and domestic with Emiko, my wife. Most of the travels are in this homepage "Viva, Seniors!" as travelogues or photo albums.

Travels overseas, on the contrary, have made me think better of the climate and the traditional culture of my country Japan.
I noticed that there are a lot of proud scenery, history, native culture and heart scattered all over Japan.

Nowadays when I have been reluctant to travel abroad, I decided to translate my domestic travelogues into English in an attempt to inform foreigners of Japan in my heart.
I know my poor ability of English translation all right, but if I can manage to get through to the foreigners with it, it will be my pleasure.
Under this self-satisfaction, I have been making an effort in the square "English Edition".

On the way of the translation, I noticed there were no travelogue of Kyushu and Shikoku, even though there were photo albums. I may be able to add some sentences to Shikoku, but my memory of the travels around Kyushu is now too hazy.
That is the reason I decided to make this trip. Understandig it was the quick tour around only North Kyushu, I believed it would be helpful to my Kyushu travelogue to some extent.

-----
The weather forecast became worse right before the trip. TV news say a low pressure system is hanging over North Kyushu and it is getting colder and colder. This is beyond human power, so we prepared thick winter clothes and an umbrella.
However, a myriad of gods might have had a sympathy for us. It rained a little bit only on the first day. We were blessed with nice weather during the other days, and the air temperature was just like in autumn.
In the result, we could enjoy the tour around North Kyushu for 4 days as follows.
Wed.,
Dec. 23

12:10 Lv. Haneda Airport JAL317
14:40 Ar. Fukuoka Airport
Beppu Alum Sinter Village
Stay: Beppu Spa

Thu.,
Dec. 24

Kinrinko Lake, Yufuin
Takachiho Gorge
Aso Kusasenri Grassfield
Stay: Aso Spa

Fri.,
Dec. 25

Boating in the Canal Yanagawa
Oura Catholic Church
Glover Garden
Stay: Unzen Spa

Sat.,
Dec. 26

Dazaifu Tenman-gu Shrine
15:00 Lv. Fukuoka Airport JAL318
16:30 Ar. Haneda Airport
18:30 Back home (Urayasu City)

pink
Dec. 23

blue
Dec. 24

yellow
Dec. 25

purple
Dec. 26
Wednesday, December 23. The first day.
The plane took off from Haneda Airport at noon. No lunch service in the plane for 2 hour flight, which everybody knew beforehand.
Therefore our couple had already bought a box lunch "soraben" at the lobby, and began to eat it as soon as the plane was in the level flight.
Even so, we received a soft drink service inside and I asked coffee recommended in the menu paper, which I appreciated thinking it was as tasteful as my home-made specialty.

The plane landed at Fukuoka Airport 30 minutes late. The tour members met together for the first time at the lobby.
I got surprised to know that we were totally 230 people. Isn't it because the tour this time is subsidized by the district?
We parted to five buses, and our couple joined in the 4th bus of 43 people. I remembered the tour of a lot of Chinese people lately. All the same with them though I don't know we would spend such big money for the souvenir.
We 230 people were going to form and break alliances among ourselves continuously at each visiting place.

Our bus stopped over in the village generating yunohana (sinter) on the way to Beppu Spa.
Light rain was over when the expressway got into Oita Prefecture, and besides, dense fog welcomed us, on account of which visibility over 50 meters became poor. The bus turned on the headlight and slowed down the speed.
Myoban (Alum) Hot Spring Village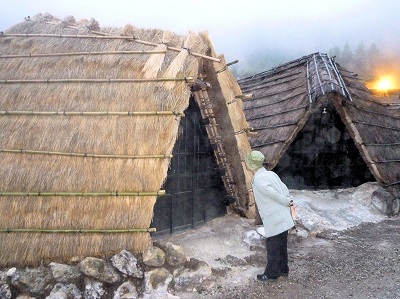 I have often been to hot springs, but this is my first time to visit a sinter-making place. I saw the sights feeling deep flavor and history of its own in the atmosphere around.
This spot is called Myoban (Alum) Hot Spring Village, which, according to Attendant T, is in the geothermal heat area at the altitude of 400 meters on the side of Mount Karadake, and where myoban (sinter) has been extracted since Edo period.
There were lined several old-fashioned and elegant huts extracting sinter. The landscape of their clouds of steam is designated as the national important scenery of hot springs, and the technology of extracting sinter is also designated as a national important intangible folk-culture property.
I savored a boiled egg with all smiles after seeing the sight.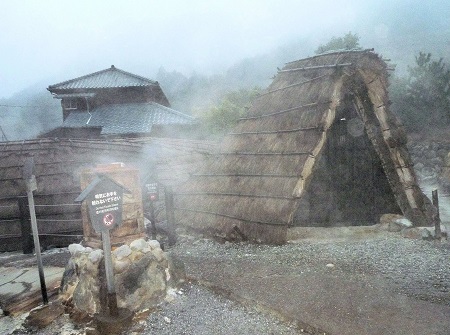 Though we stayed in Beppu Spa at night, our hotel was just a city hotel with no such bath. I could not enjoy the feeling in a hot spring.
Dinner was in the large Japanese-style hall from 19:00. Both of us asked a legless chair.
I went to bed at 20:30, tired and a little drunk.
Reading: 9' 14"
Part 1 Preparation, Fukuoka Airport to Beppu Spa
Part 2 Yufuin, Takachiho Gorge, Aso Kusasenri
Part 3 Yanagawa, Oura Church, Glover Garden
Part 4 Dazaifu Shrine, This and That