Outline
In late November, 2014, when the autumn deepened, our couple traveled around Okinawa Main Island for 5 days as a member of the tour by Hankyu Trapics.
The weather there had been forcast bad, however, it rained only from the 3rd-day night to the 4th-day morning, and we enjoyed full blue sky during the rest of the days. The temperature was around 25℃ in the daytime so that we did not need a long sleeve jacket for a whole trip there.
The outline of our travel is as follows.
Nov. 19
(Wed)

Lv. Haneda Airport JAL915 (12:55)
Ar. Naha Airport (15:30)
Stay: Rizzan Sea-Park Hotel Tancha-Bay

Nov. 20
(Thu)

Mangrove Forest at Gesashi Bay, Cape Hedo, Kouri Island, Shuri Castle
Stay: Okinawa Kariyushi Urban Resort Naha

Nov. 21
(Fri)

Lily Tower, Peace Memorial Park, Cave Gyokusendo, Ryukyu Village
Stay: Costa Vista Okinawa Hotel

Nov. 22
(Sat)

Katsuren Castle Remains, Manzamo, Pineapple Park, Bise Fukugi-Tree Tunnel, Nakijin Castle Remains
Stay: Okinawa Kariyushi Urban Resort Onnason

Nov. 23
(Sun)
Lv. Naha Airport JAL910 (12:45)
Ar. Haneda Airport (14:55)
Mangrove Forest
Cape Hedo
Kouri Island
Shuri Castle
Pineapple Park
Lily Tower
Peace Memorial Park
Cave Gyokusendo
Culture Kingdom
Ryukyu Village
Katsuren Castle
Manzamo
Glass Factory
Fukugi-Tree Tunnel
Nakijin Castle

---
On the first day, November 19th, Emiko and I took an airport bus for Haneda Airport at 10:35 in front of Shin-Urayasu Station.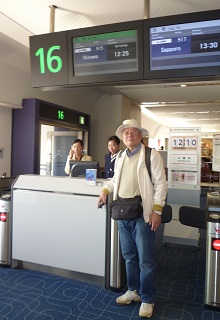 It was fine and cold. I put on a jacket on the long-sleeve shirt. Emiko was in the same dressing.
As it was said more than 5℃ upper in Okinawa, we would have to change clothes to T-shirt and short-sleeve wear.
JAL915 of Japan Airlines, a jumbo jet, lifted itself into the air 30 munites late at Haneda Airport.
The free service in the plane was soft drinks only. It was my first experience. As we had known about it, we brought sandwiches into the plane for lunch.
The flight was so comfortable that the plane landed on Naha Airport in Okinawa making up the delay.
We got out of the exit area after baggage claim, where Ms. Fukuzato, a local attendant, welcomed us.
The participants for this tour were 57 people, who were divided to two groups. Our couple was in A group of 28 people.
Naha Airport is located in the southern part of Okinawa Main Island. From there our bus was going up north for 1.5 hours to Onnason Village facing the East China Sea in the middle of the island. Our hotel on the first night was Rizzan Sea-Park Hotel Tancha-Bay.
The dinner in the hotel was smorgasbord of Japanese and Ryukyu dishes. I drank a shot of Awamori.
There was a large bath there but with a charge of 800 yen. The pay bath in a hotel was my first time. Our couple used the room bath. We will enjoy a free-of-charge large bath on the last night.
The next day, November 20th, was the first sightseeing day. We are practically going to have a round trip through Okinawa Main Island for 3 days.
(The map below is from the Blue Guide, in order to be a help for my explanation. I don't think it is any help to you, but I confess I have no other ability.)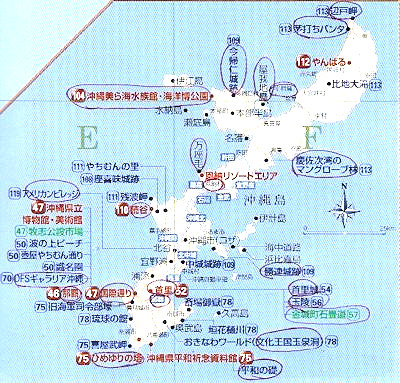 Mr. Kuniyoshi, a driver, Ms. Nakama, a guide, and Ms. Fukuzato, an attendant, took a very good care of us during the whole trip.
---
The details of the travel will be shown in the following chapters.
On the last day, November 23rd, it was definitely fine, too.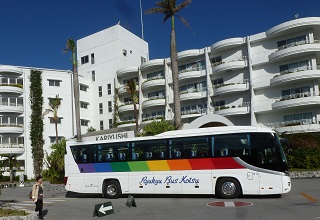 We left the hotel Okinawa Kariyushi Urban Resort Onnason at 10:00 am and drove to Naha Airport, viewing the brilliant sea on the East China Sea side.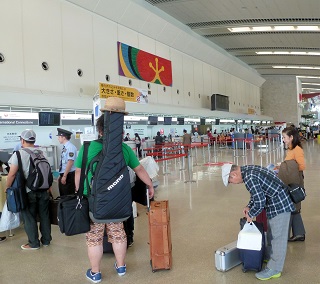 JAL 910 left the runway at 12:45 as scheduled and landed on Haneda Airport just before 3:00 pm.
Let's go to the sighseeing through Okinawa Main Island now.