Thursday, January 1, 1970
At midnight between New Year's Eve and New Year's Day, in celebration of the New Year, we, Mr. Waldo's family and I, toasted with cherry juice.
During the Christmas holidays, I stayed in St. Paul, Minnesota from the 18th of last month (December 1969), and since the 25th I have been taken care of by the Waldo family of Hideko-san and Eugene with their daughter Linda-chan.
Today on New Year's Day, I am going back to Penn State (Pennsylvania State University).
I woke up at 11:00 a.m. Lunch was roasted duck.
At 17:30, Mr. Wald's family saw me off at the bus terminal.
My bus arrived in Chicago at 2 a.m. Bought a novel by Agatha Christie at a stand. The female clerk (about 40 years old) was grumpy.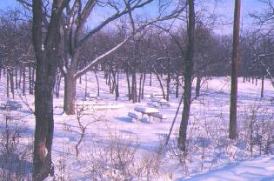 St. Paul is in the snow.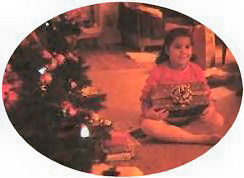 Linda-chan and the Christmas tree
Further on the way, the bus took a long break in Cleveland. I went to a Chinese restaurant during the time, but it was closed.
At 10:30 p.m., I finally arrived at State College. My two-week trip is over.
Saturday, January 3
At 11 a.m., I am doing the winter Semester Registration at Rec Hall.
The US already started work on January 2.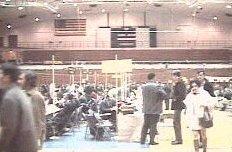 Thursday, January 8

Meet Mark, back from Florida. His face is red-black and tanned.
He tries hard to boast saying,
"I met Irene Pappas and had a home-made meal at her villa."
Since Irene Papas is truly a famous international actress and a Greek heroine, it's no wonder Mark is so proud.
He also spoke excitedly about Florida's annual New Year's Orange Ball.
Thursday, January 15
Invite Jan (a student from Poland) with Mark to MY (snack bar).
After the summer semester, I had moved from Shunk Hall dormitory to University Club. It's a three-story dormitory exclusive for graduate students and university staffs.
A large room only for myself. Mark next door and Jan opposite.
Saturday, January 17
Mark took me with Jan to Bellefonte, a town near Pittsburgh on his old wreck Beetle of Volkswagen.
...... That reminds me that he kept saying, "I can help you get the driver's licence at $10.00." Why don't I accept his kindness?
Sunday, January 18
Spaghetti party at Gus Stuart's apartment.
(Jim, his girl friend, Maje, Jan, Mark, Gus, and me)
Friday, January 23
Pittsburgh Symphony -- NHK Symphony Orchestra was better to me.
(NHK Symphony Orchestra came here to Penn State last November. Conductor: Hiroyuki Iwaki Piano: Hiroko Nakamura)
Thursday, January 29
Invited Mark to the movie "Naked Island" (directed by Kaneto Shindo). Everyone cried and moved. Mark and me, too.
Then to MY. Joined with Gus and his friends. Mark's speech of "Naked Island" is eloquent.
Saturday, January 31
State College → Pittsburgh
Got up at 7:00 a.m., as I have to catch the 8:00 Greyhound to Pittsburgh.
At 7:45 a.m., I thought I reached the bus stop, but it had moved 1.5 miles away. When I got down the bus on New Year's day, there was no such sign at all! Walk reluctantly. It took 30 minutes. Naturally, I couldn't make it in time for the 8 o'clock bus. The next one was at 10:30.
I had to inform the manager Mr. T of my late arrival, not at 2 o'clock. I called him up twice at a State College pay phone, twice in Lewistown, and once at another location. I couldn't get to him.
Arrived in Pittsburgh at 4:00 p.m, and hurried to the pay phone. I got him at last.
I arrived at the hotel at 5 o'clock. Mr. T greeted me with a smile, but he didn't seem to be in a good mood.
He is in a long-underpants figure. Suntory whiskey on the desk. He lets me smoke Highlight cigarette. There are about 20 Sunkist oranges to have bought at a supermarket. Eat together.
Relaxed, both of us drink Suntory whiskey on the rock with anchovy. Then go outside.
No Japanese restaurant nearby, so we entered a Chinese and ate a lot, drinking beer.
Stayed in Mr. T's room in Webster Motor Hotel.
(Mr. T is the head of the Planning Department of the head office. He is participating in training at Carnegie Mellon University as a member of the Japan Productivity Center. In between, he invited me here to take care.
Sunday, February 1
in Pittsburgh
Mr. T shows me around Carnegie Melon Univ. Enjoy the beautiful view from the hillside of the school.
See the Catholic Church. Then, go to the Carnegie Museum of Art. His third time. We spent about 2 hours browsing the paintings on display.
We wandered around the city. The architectural beauty of the modern dormitory at Pittsburgh Univ. is impressive. There are also buildings that have become stained by air-polution symmetrically.
He treats me with Chinese fried rice again today.
I took leave of him at 4 o'clock. While parting, he gave me a book brought from Japan.
"The Economics of Decision Making (2 vols.)"
by Kimio Miyagawa
Arrived at University Club at 11:00 p.m.
Thursday, February 5
I watched Kurosawa's movie "Bouncer" (用心棒) at Schwab on campus with Mark. Then to MY. Mark's film review stands out with gestures. I had a hard time hiding my pride.
Friday, February 6
I went to Van Cliburn concert at the Auditorium with Mark. Due to heavy snowfall, Mr. Cliburn arrived an hour late.
Perhaps because of this, he responded to the encore until 11:30 midnight.
When the two of us were impressed, saying "It's the best," Frank's complaint was "It wasn't good at all."
Sunday, March 1
| | |
| --- | --- |
| Three of us, Mark (right), Ric (left) and me, drove to Milroy, and enjoyed the rural scenery for 2 hours. | |
Friday, March 6
Mark next door moves into another apartment. He seems to live with his love.
I am going to keep his pretty good stereo. I have more than 100 LPs stockpiled. I can listen to them from today.
Sunday, March 8
Sukiyaki party in my room.
Participants: Bob, Mark, John, Bill, Ken, Jack
Membership Fee: $1.50
The heater pot borrowed from Bob. Chinese starch noodles are bought at the shop Sunglow managed by a Korean one mile away.
The sliced meats bought at George's are a little too thick, though I asked to be sliced like bacon.
.....
Get, set, go!
All of us rush to the heater pot.
Everyone, surely except me, is awkward in chopstick-handling.
They appreciate my cooking.
I performed noh-chanting "Daibutsu Kuyou" after meal.
Monday, March 9
Bob and John have diarrhea.
| | |
| --- | --- |
| | |
| Bob Salitt | John Baur |
| | |
| Jack Sparks | Bill Jessen |
Friday, March 13
A stroke of good luck in "Marketing". In the case study I submitted the other day, I am the only A+ for some reason.
I was made to stand at the pulpit and explain my thesis. I sucked so bad that Prof. Bovino sent out a rescue boat. The title was "Let's sell "PreT" to Fab buyers!" PreT=Pretty.
I drank with John, Frank and Bill until 1 a.m. Afterward, we had dinner at College Diner.
Monday, March 16
Talk to Don until after 11 p.m.
 Dr. Jester seemed to call up to introduce me to dinner.
I am reluctant because of no meeting since New Year's day.
Wednesday, March 18
Last Exam Day of the Winter Semester
8:00-10:00 a.m. Marketing
Everything is finally over to me.
Thursday, March 19
I had an appointment with Mark to meet at 12 o'clock, but he turned out to be inconvenient.
My schedule has been thrown off. I can't help but watch a movie from noon. Jane Fonda's "They shoot horses, don't they?" R designation.
  
Nick Sepe
  
Doug Brittain
When playing billiard with Nick and Doug after 9 p.m., Mark came over.
I promised to leave for his hometown (Baltimore, Maryland) with him at 11 o'clock tomorrow.
All of us went to My-O-My. Today it has a black strip show.
Then afterward we went to Rita's. Here, it was a white strip show. Wow sensual. It is said that there are many show dancers of students!!
Talked with Nick in the restaurant until after 1 o'clock a.m., while eating pizza.