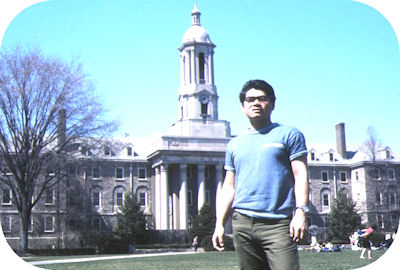 Old Main of Penn State on the Back
| | | |
| --- | --- | --- |
| Part 1 | | August, 1969 |
| Part 2 | | January and April, 1970 |
Penn State Report 1
August, 1969
In my fifth year since joining Daido Steel, the company sent me to the United States to study at Pennsylvania State University (Penn State) for a year from June 7, 1969. I was then 29 years old. I headed for the US, leaving my wife and seven-month-old daughter in Japan.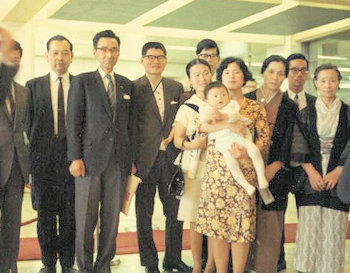 At Haneda Airport, June 7 1969
The exchange rate was still fixed with 1 dollar = 360 yen. The advent of jet planes was also a long way off, and there were no direct flights to San Francisco from Haneda Airport. A twin-engine propeller plane refueled en route at Honolulu, Hawaii.

There remain two reports to Personnel Department of the head office and one private letter to the company boss. Though all of them are carried in the square "USA 69-70" in Japanese, I have decided to reproduce them here in English. (as of July, 2022)
---
August 9, 1969
(after 2 months here in the US)
Two months have passed since I left Haneda Airport, and one month since I began to study here. This is my first report.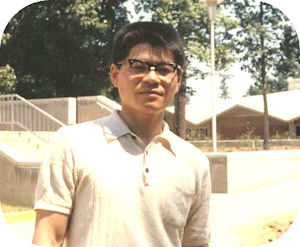 State College, a rural town in central Pennsylvania.
I have been studying here at Penn State, which makes up the majority of the town's area and population.
The following is a report on the topics so far.
Haircut
I got a haircut on July 30 for the first time here in about two months.
Two days before leaving Japan, I honestly got a crew cut close to shave the head. That's because some senior to have studied in the US before threatened me, saying "Haircut there is too expensive!"
A barbershop here looks the same as in Japan.
Since shaving needs extra cost, I said to the barber, "Hair cut only," and sat down.
At first, I asked him to show me a sample wishing to have it as the original combed-back hair, but the answer was "No sample, sir."
I couldn't help it, so I looked at a person sittng next to me and said, "Just like this guy, and shorter, please."
Then I closed my eyes.
After a moment of dreaming with sound of clippers, I woke up to a voice, "How do you like this?", and looked in the mirror. "What ?!"
My head is still a GI cut, or rather the original crew cut style until now.
The haircut cost in this town is 2 dollars without shaving. I put a quarter coin (25 cents) as a tip.
About the School
Every semester from autumn to spring, Penn State has more than 25,000 students.
The area size of the school is a bit undescriptive. I feel infinite on my feet, including a school golf course, farms and a camping ground, ... mind-boggling.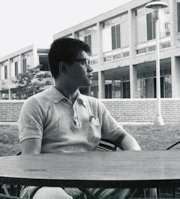 Penn State in summer is quiet with less than 5,000 students.
The schoolyard with grasses all over is shadowed with overgrown oak, ginkgobiloba, and elm trees. Squirrels and bunnies are splashing here and there.
How students appear on campus is like this.
Male Students
Many male students with long hair in the Beatles style and fine beards all over their faces. Also, T-shirts dyed with the Penn State mark, shorts and G-pants. Barefoot, athletic shoes, step-in shoes.
Students with pipes are also eye-catching. I bought a cornpipe of $1.00 similar to theirs.
My dress in summer is like this.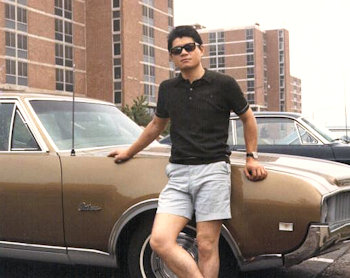 Girl Students
Most of them are in shortcut with sun-glasses, wearing shorts or micro-miniskirted. Some of them are with slacks like in Paris fashion.
The bikini style with bare midriff is just for swimming. I had really thought so. What a naive guy! I didn't know where I should look, or stealing a glance?? I was interested in such girl students as barefoot or slipshod with vivid and colorful clothes. (Why? Sorry, no photo.)

I thought that the intertwining of men and women was something to do secretly or at night, but how superficial. In broad daylight, in all directions,...... Can they understand my feeling, too?
The schoolyard pool is even more exciting. More than a bikini, "Stop it already!" style jumps out at me. They are keener on lying by the pool and suntanning than swimming.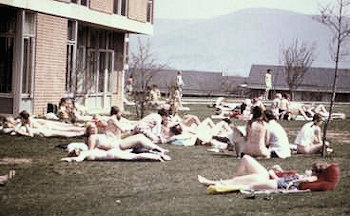 Dormitory
There are many student dormitories lined up all over the campus. They can accommodate more than 10,000 students in total. Most of them were built four or five years ago, with seven or eight stories tall. Each dormitory is equipped with a large TV, ping pong tables and other entertainment facilities. Cleaning is done every week.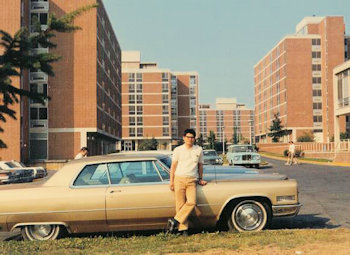 My room is in Shunk Hall. Although it is on the second floor of a seven-story building, the room number is 103. As the first floor is the ground floor here in the US, the second floor is the first floor.

The penetration rate of telephones in the United States is very large, and this dormitory also has a telephone for each room. My room is 814-xxx-xxxx. Please call in your spare time!
I share a room with Chen Yonghao (陳永豪). Chen is an exchange student from Hong Kong, majoring in Architectual Engineering. He is very studious like myself (?)
Kanji (Chinese characters) always complement the conversation between us. He's crazy about photographing. He invites me to go out for a shoot.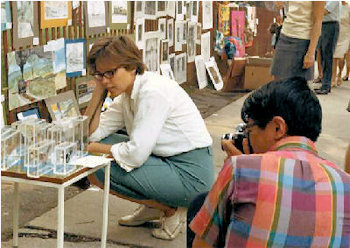 The dormitory is always lively even late at night. Much more so because girls' visit is OK until 2 a.m. Drinking alcohol is prohibited, but everyone drinks appropriately. Surely the same with me.
Recently, I have gotten used to showers and Western toilets. When I arrived in San Francisco, I didn't know what to do for both of them, and caused trouble to the Aozasa family.
Meals
Dining is in the self-service cafeteria of Pollock Hall next to Shunk.
In the morning, it's usually orange juice, and bread, cake or doughnut, with a fried, scrambled or boiled egg. Also surely with coffee or tea.
You are free to put what you want on the tray as you like, and also free to take any substitute. Milk is available in abundance.
Lunch and dinner are gorgeous.
Meat, fruits and ice cream are added. Meat aside, fruits are oranges, grapefruits (the same size and shape as summer tangerines), grapes, bananas, watermelons, melons, cherries ... , a lot of variety and so delicious!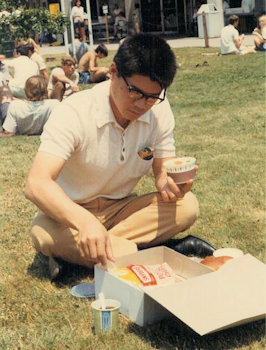 If I report in more detail, I should be ordered to return to Japan immediately. So now, let me wrap up this kind of topics.
School Events
June 23: Course Registration
June 26: Summer semester starts
There are considerable events during this semester, too.
For two weeks, Central Pennsylvania Festival of Arts was lively all over campus, and every Friday night a movie show was on the lawn. An evening of folk dancing, another of go-go dancing with an electric guitar. For the football league from autumn, preparations for cheering are also going to begin in a flashy manner.
Penn State finished second in the US last season, so their enthusiasm for this season is much different.
There are three theaters on campus, and the curtain rises anywhere every day. I went to see a play "Collision Course" the other day. It was Adult Only! There, though my clothing was in shorts with casual shoes, most of the audiences wore a suit and a tie in surprise. The play seemed to be full of obscenities, but I didn't understand any words. However, there was no rash behavior or exposure, which was disappointing.
There are seven movie theaters in town (State College). Two of them are drive-ins.
English and Classes
It shouldn't be hard to imagine that I still speak English only half as much.
This summer, seven foreign students are learning English as the second language. Myself from Japan, one from India, two from South Korea, one from Greece, one from Honduras, and one from Venezuela. Except for me, all of them are students living in the United States for two years or more.
That's why my conversational skill is the lowest. However, since the textbook is easy, the class itself does not bother me at all. Though I can't speak, I am the top for grammar and pronunciation. Funny, isn't it?
Such accents as Korean English, Indian English, ..., are lively.
My nickname is Shig. Shigeru is difficult to pronounce, so the English teacher named it.
I attend the Language Lab for an hour every day. This course is beneficial for correcting pronunciation, etc. Anyway, I wish to be able to think in English as soon as possible.
On Monday, Wednesday and Friday, there is Marketing Management class. All the students are American, except me. I don't understand anything for now. I expect "sometime soon" and never skip the lesson.
The teacher is a young professor Mr. Bovino. He taught us the pulpit is for sitting on and putting feet on.
Students take a class while smoking cigarettes or drinking coke. Raise their hand and ask questions and answer questions after being nominated. Unrestrained vigor and silent discipline. I felt those differences from Japan.
---
ICF (Interversity of Christian Fellowship)
About my devout life.
Mr. Glen Swanson, a missionary in my hometown of Shingu, when I talked about the study plan in the US this time, highly recommended me to join this circle.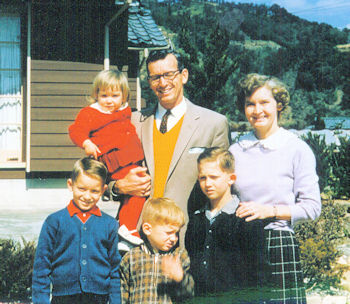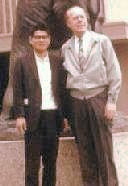 By the way, during my travel this time from San Francisco to Penn State for about two weeks, his good friend in Denver, Mr. Hassalblad, an industrialist, took care of me very much, driving halfway up the mountain in the snow. He let me stay one night in his gorgeous residence.
As for ICF, Mr. Swanson said, "You can make friends with many people and you can learn English quickly."
I happened to meet him and his family in Sioux Falls, South Dakota on the way, when they were going to spend their summer vacation in the US. I was invited to their welcome meeting and participated in Japanese clothes.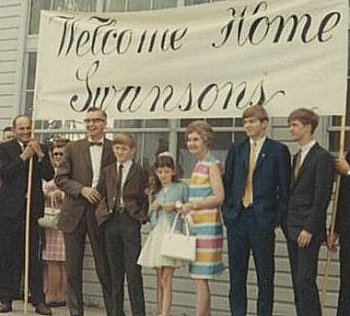 The ICF circle at State College consists of about 40 people. They are students, teachers, and the townspeople.
They gather together every Thursday, from 6:00 to 8:30 p.m. It is now daylight saving time here, so no difference from the daytime in Japan during the time.
They alternate between a picnic and a barbecue party. The foreigners are two Britons, one Algerian and myself.
We sing hymns, black spirituals, folk songs... It seems useful for learning English to me. It's not a hundred percent carefree, but it doesn't feel too rigid either.
The other day, Dr. Jester, Associate Professor, Nuclear Engineering, invited me to dinner. Another invited person was a beautiful lady from Germany!
Dr. Jester's wife was also cheerful and served us a full course of beefsteak.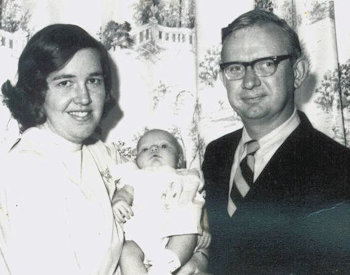 Last Saturday was a special day for ICF members. We had a picnic at a campsite of Penn State. We played volleyball and frisbee, and for lunch the maindish was beef teriyaki (Pacific Style), grilled with soy sauce. They also cooked rice for me.
They are peaceful and pleasant, not forcing their religion, though a little too elegant for me to have stiff shoulders.
As Shig, a nickname, I hung out in broken English.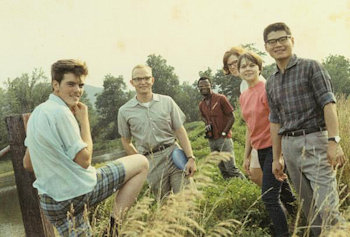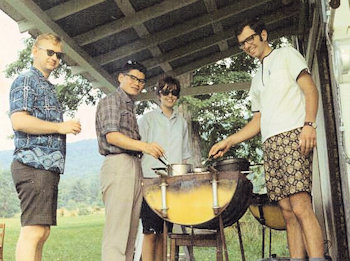 Dr. Jester (left)
What Do Americans Think about Japan?
Penn State accepted 500 international students from 82 countries last spring semester.
Canada (62), China (84), India (97), South Korea (39), Philippines (20), Iran (19), Japan (14), ...
"Fujiyama, Geisha, Bushido, Harakiri" are in an old tale. Japan is already recognized as an industrial country. What you can see here are transistor radios, tape recorders, record players..., made in Japan (Sony, Panasonic, Hitachi, Akai ...). In addition, motorcycles (Yamaha, Honda, Kawasaki), cameras, watches, ... even automobiles.
That's why Japan has evaluated more than you imagine. Might be an overestimate.
Are Japanese products so good? Prices seem cheaper, though.
The camera is definitely "Made in Japan", but I also see quite a few KODAK polaroids, and the camera carried to the moon was KODAK, not Minolta.
What about our sense of America? (What do we think about the United States of America?)
"They are so clumsy unable to use chopsticks, blindly admire Eastern manners and customs, not so sensitive, ....."
Apparently, the reverse should be correct. The US is a great country in most things to be honest. Don't simply think everything just as part of them.
Computers work in all aspects of the school, and each administrator works quickly in pairs with a typewriter-wielding secretary.
No matter what you put on it, it is more than expected! I didn't know! That's my undisguised impression.
Apollo 11
Launched on July 16, 1969.
Landed on the moon at 10:56 p.m. on the 20th. Captain Armstrong, the firststep to the moon.
Returned to the Earth at 1:00 p.m. on the 24th.
 One of the ironies of carrying the camera is that you seldom get into a picture yourself.
 That happened to Neil Armstrong on the moon.
 Here, he recorded Buzz Aldrin near the flag Aldrin had set up in the powdery, slippery luner soil.
"Look Special Edition 1969"
(Apollo 11: On the Moon)
I watched this historic event on the color television in the recreation center called HUB.
Full of hope, "Apollo 11 will naturally succeed," wasn't this the conviction of most Americans? The looks of about 100 people in front of the TV make me feel they are watching a show with easy mind. No worried face, no thrill. They applaud passionately at every moment of the site, and when the national anthem is played on the TV, all of them stand up, put their hands on the chests, and join in their voices. I really had my heart touched.
On the 18th, when President Nixon announced that "Monday the 21st will be National Holiday," the surroundings seemed to become brighter all at once, probably expecting to enjoy a three-day weekend.
Captain Armstrong's message from the moon was also lovely.
That's one small step for a man,
one giant leap for mankind.
The New York Times had a thick feature to report the historic moment.
| | | |
| --- | --- | --- |
| July 17 | | Apollo 11, Man and the Moon |
| 21 | | Men Land on Moon |
| 25 | | Astronauts Back from Moon |
| August 3 | | The Moon : A New Frontier |
The ads were also glamorous.
CBS TV cut out the New York Times and reported partly for fun, "There are such and such."
Each advertisement competes for a sense of the time and interesting, but here I reprint Takashimaya's one featured on the 17th.
Takashimaya salutes the United States of America for its courage and dedication in making this century one of the outstanding periods in the history of man.
Travel
I made good use of my air ticket and stopped here and there for two weeks after leaving Haneda Airport until getting to the city State College.
First, starting to stop in San Francisco, I spent a week on the way around Gardena, Los Angeles and San Jose.
In the past, more than 50 years ago, when my father went to the Arafura Sea north of Australia of the Southern Hemisphere at the age of 16 as a member to collect pearl shells, some people around my hometown emigrated to the west coast of the United States.
My father returned home after 17 years of diving life, but many of those who worked on the west coast of the US gained citizenship and have lived there permanently.
Mr. Aozasa in San Francisco, Mr. Nakaji in Los Angeles, and about 30 people of second generation from the Wakayama Prefectural Association, warmly welcomed me like in a dream at a certain Japanese restaurant in Los Angeles.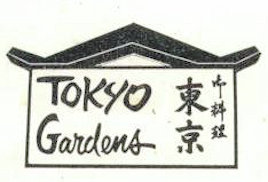 "We came over to America with nothing but the clothes on our back. You graduated from college and are going to study abroad here. Congratulations! We are glad!" Mr. Nakaji said with tears in his eyes.
Then another week in Denver, Sioux Falls and St. Paul.
I was able to visit there thanks to the introduction of Mr. Glen Swanson, a missionary in my hometown.
I touched the nature and countryside scenery of America, meeting the heavy snow at Estes Park, seeing the endless fields of the Midwest around Sioux Falls, and coming in contact with the devout life of people of Swedish descent in St. Paul.
My 1st step into the US, other photos
…………
That's all for the report this time.
I am planning a trip across the United States with the two Japanese gentlemen, met here in Penn State, loading a tent on a car, for nearly 30 days from the end of this month, August.
Stay tuned for the next report.
Reading (1st half) 16' 07" on
Reading (2nd half) 13' 30" on
Part 2 >
| | | |
| --- | --- | --- |
| Part 1 | | August, 1969 |
| Part 2 | | January and April, 1970 |