Thursday, August 28th, 2014

It was cloudy, seemingly going to rain at any moment. In addition, so cool as to require long sleeves. No wonder, the maximum temperature was 23℃ the whole day, compared with more than 30℃ consecutively until the previous day.

10 elementary school children (3rd-6th grades) visited the Embassy of the Republic of Fiji, guided by 2 staffs of Urayasu International Center (UIC), Ms. Fujimatsu, the chief of UIC, and Ms. Mukai. 2 senior volunteers, Ms. N and myself, accompanied them.

They gathered together at noon in the meeting room of UIC, Il Mare building, next to JR Shin Urayasu Station.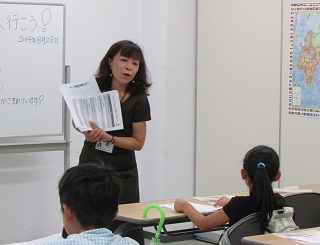 After Ms. Fujimatsu explained the today's schedule there for a while, they got on a JR train at Shin Urayasu Station, transferred to Hibiya Line of Metro at Hacchobori, and got off at Kamiya Station.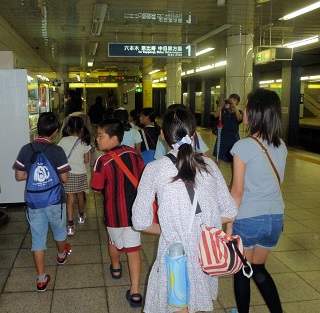 The Embassy of the Republic of Fiji was within a stone's throw from the station. It was really a dull sky around there too.
They arrived at NOA building in Azabudai, Minato-ku, Tokyo at about 13:30. The embassy was on the 14th floor.
Ms. Iki Kawabata, Tourism & Commercial Officer, welcomed them, saying "Bula!" and they said to her "Bula!" loudly. Then she guided them to the conference room.
Ms. Kawabata started to explain the outline of the Republic of Fiji as clearly as the school children understood well.
To begin with, she told that the people in Fiji (Fijians) call each other by their first names.
"So, let me call her Iki-san from now."
By the way, Iki-san firstly said, "Bula is a magic word. Fijian people use this word everytime everywhere and smile each other. Bula is the most friendly word."
It made me remember the recent travel to Bali and Java Island of Indonesia. The passage of my essay afterward: --- I found the local people were more friendly than I had expected. More than that, what a lovely smile they showed me when I said "Terima kashi" to them! Then everybody answered me, saying "Samasama". ---
Back to the subject. The next chapter is the introduction of the country Fuji by Iki-san.